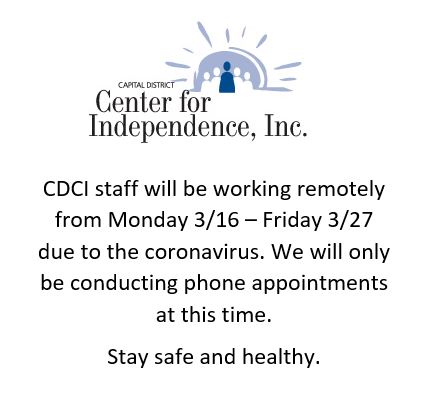 CDCI will be operating remotely with no physical appointments. Staff will have access to their files, emails, and phone messages all appointments will be held via the phone or electronic means. All groups are canceled.
The Center continues to monitor the situation regarding the 2019 Novel Coronavirus (COVID-19).
Please know this decision to modify service delivery is being made out of an abundance of caution and to ensure our consumers and staff remain as safe as possible
It is important to keep in mind that while the number of confirmed cases of COVID-19 are increasing, and that is expected to continue, the majority of cases include mild symptoms but people with compromised immune systems, and breathing issues are at a higher risk.
As a reminder, if you or a family member begin showing symptoms of a respiratory disease and suspect it may be COVID-19, contact your healthcare provider. Before going to your healthcare provider's office, inform them that a case of COVID-19 is suspected, and follow their advice. You can also call the Novel Coronavirus Hotline at 1-888-364-3065 with questions or concerns.
Thank you for your continued support during this evolving situation.
Please check out our website: www.cdciweb.com to find information about COVID-19 and other resources which may be helpful during this time. If you have any questions, please call us at (518) 459-6422 and we will get back to you within 48 business hours.
Stay safe and healthy. Thank you.