Easy Healthy Chicken Broccoli Soup
Easy Healthy Chicken Broccoli Soup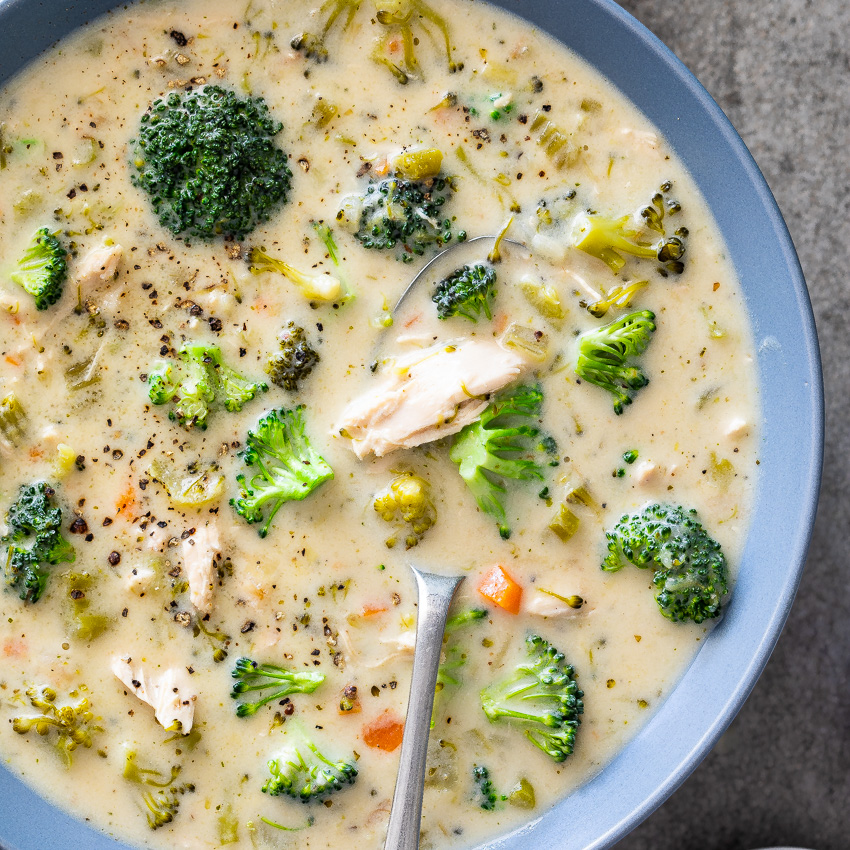 As much as we love turkey day, sometimes there are limits to how much mashed potatoes and cranberry sauce we can take. Plus, let's be honest, we need to balance everything out with something a little bit more healthy. Introducing a very easy chicken and broccoli soup. Perfect for these cold fall nights. Enjoy!
– Meg B., Healthy Living Coordinator
Ingredients :
1 large onion finely chopped
2 large carrots peeled and finely chopped
2 celery ribs finely chopped
4 garlic cloves crushed
1 bay leaf
1 tbsp dried mixed herbs
1 tsp chilli flakes/red pepper flakes (optional)
5 cups broccoli stems removed and finely chopped (frozen is an equal and oftentimes cheaper option)
6 cups chicken stock/broth
2 cups milk
2 tbsp cornflour/cornstarch mixed with 2 tbsp water
2 cups shredded chicken
salt and pepper to taste
lemon juice to taste
Instructions :
Sauté the onion, celery, carrot and broccoli stalks in a splash of oil until soft and fragrant and just starting to brown (this takes around 10 minutes).
Add the garlic, bay leaf and herbs and sauté for another minute before adding the chicken stock, milk and cornflour mixture.
Bring to a simmer then add the broccoli florets and shredded chicken.
Allow to cook for 15 minutes then season with salt, pepper and lemon (optional).
Serve with crusty bread.
Recipe from: Simply Delicious Food
Please follow and like us: